Chronicle
Early years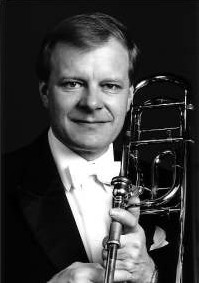 Carsten Svanberg - worldwide known as trombone soloist (alto- & tenortrombone) and as teacher - was born 1945 in Copenhagen, Denmark. He started to play trombone at the age of 9 in a local school band. After an education as carpenter from 1960 to 1965 he won his first audition in 1966 (Military Band). One year later he switched to the Royal Guards Orchestra (trombone & Euphonium).
In 1969 he won the audition for principal trombone of the Royal Opera Orchestra in Stockholm, Sweden. It was his own choice to return to Denmark the same year. In 1975 a position in the Danish Radio Light (concert) Orchestra was open, and Svanberg became 2nd trombone next to his first teacher Mr. Poul Ivan Møller. It became a short stop, since he won the audition same year as principal trombone in the Royal Dänish Orchestra (Opera) where he stayed until 1980.
From 1980 to 1995 Carsten Svanberg was principal trombone in the Dänish National Symphony (Radio) with whom he has appeared as a soloist several times in the concert seasons. He has been working with conducters as: Sanderling – Ehrling – Tennstedt – Kubelik – R. de Burgos – Sinopoli – Varviso – Salonen, Segerstam (all Mahler Symphonies on Chandos Label) as well as Celibidache, to mention a few.
Professorship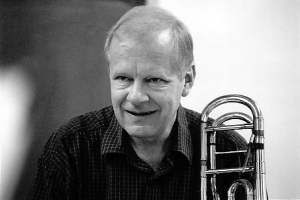 In 1992 Svanberg was appointed professor of trombone at the University of Music in Graz, Austria. He moved his resident to Austria in 1994. Since 1977 Svanberg has been invited to USA as guest teacher and as soloist by many universities as e.g. Indiana – North Texas State – Florida State – Northwestern in Chicago – Harvard – Illinois – Eastman School and Juilliard School. In november 2001 Svanberg visited the Boston and Kansas City area, making it his 32nd US visit!
Carsten Svanberg received the highest Award given by International Trombone Association in 1996 for his contribution as a performer and as teacher world wide. Already in 1985 he received the highest Award given by the Dänish Musicians Union in Denmark, together with the world famous trumpetplayer Knud Hovaldt.
Svanberg has been giving concerts and master classes in Japan, Taiwan, France, Spain, Iceland, as well as in Scandinavian countries and most parts of Europe. His recordinglist is up till 2000 – totalling 15 albums as a soloist as well as a chamber musician. Ask for a complete list of further informations!
Recorded CDs:
DANICA LP 8033 Nesa Concert Band (Amateur) (Korsakov concerto) Recorded 1967 - OUT OF PRINT
DANICA LP M37 Trombone and Organ (1975) - OUT OF PRINT
DANICA LP 8033 Nesa Concert Band (soloist) Recorded 1982 - OUT OF PRINT
EMI RBA LP 21 Elsinore Festival (w/organ) (1978) - OUT OF PRINT
EMI KMK 170878 Copenhagen Brass Quintet (member 1968-78) Recorded 1978
DANICA LP 8006 Hovaldt Brass Quartet (Ramsøe Quartets)
DANICA LP 8071 The Art of the Trombone (& piano) Recorded 1985
DANICA LP 8119 Band of the Royal Guard (Grøndahl concerto) Recorded 1986
EDIT.WH LP 111 Concertos for Brass (by Ole Schmidt) now DANACORD CD 513 (Recorded 1979)
RONDO CD 8349 Trombone Concepts (premiere CD in 1995) w/Dänish Concert Band
KNÖBL CD 192390 Pannonische Blasorchester (Cibulka Rhapsody nr.2) Recorded 1997
RONDO CD 8359 Danish Romantic Concertos (Trp-Trb-Orch.) Aalborg Symphony Orch. (1998)
AMOS CD 5820 WASBE Concerts 1997 (CD nr.3 Soloist w/Dänish Concert Band/Cibulka)
AMOS CD 5857 Symphonic Winds (Italy) (Concert 1998 – Jacob concerto a.o.)
AMOS CD 5872 Classical Sonatas for trombone & piano (1998/99)
DACOCD 710 After a Dream (with trombone & organ) Recorded 2009
For further informations about DANICA and RONDO CDs please contact following e-mail address:

Informations about DANACORD:

Informations about AMOS:

Carsten Svanberg has been member of several international jurys for chamber music as trombone competitions f. ax. in Munich – Prague – Toulon – Porcia – Markneukirchen – Switzerland (Slokar Competition).
Svanberg is holding several master courses during the year ax. in Italy, Switzerland and Austria.
1997
Master classes and solo performances in Spain (Spanish Brass Host) – Organ recitals and festivals in Denmark.
1998
Concert tour in South Tyrol (I) + CD recording w/Symphonic Winds (Premiere G. Jacob Concerto Band arr.)
1999
Soloist at the Festival Villach (A) and Schönbrunn Palace in Vienna – with Concilium Musicum Vienna.
Master classes in Italy by Foundation Musicale Santa Cecilia.
2000
Summer workshop in St.Paul - Carinthia (A) - www.sommerkurse-st-paul.at
Member of Austrian Art Ensemble-concerts in Scandinavia and Spain.
ITA Festival in Utrecht (NL) - World Premiere of the "Utrecht Concerto" composed by Ole Schmidt (dedicated).
2001
Master classes and concerts in Taiwan.
Summer workshops at Ticino Musica in Ascona (CH).
2002
Appointed principal trombone in Orchestra Recreation in Graz - www.recre.at
Summer workshops at Ticino Musica in Ascona (CH).Soloist at music festivals in Denmark.
2003
Concert tour in USA – Recitals and concerts in Ithaca-Ball State-Eastman School as well as in New York at the famous Juilliard School of Music.
2005
Concert tour in USA - Florida area - World Premiere of the "Orlando Concerto Op.16" by Reinhard Summerer (A) with the University Band from Orlando University. (piece dedicated Svanberg) – Concerts and lectures at Maryland University in Washington.
Recitals and concerts at University in Karlsruhe & Munich (Germany).
2006
Summer festivals in Denmark and Sweden.
2007
Seminars in Austria (St. Paul - Birkfeld a.o.) as well as recitals in Denmark and Sweden (music festivals).
2008
Solorecital at the Schleswig-Holstein Music Festival (D)
Masterclasses at the Royal Academy of Music - Copenhagen (DK)
Several recitals in churches throughout Denmark (with organ)
Masterclasses and solorecital at the Academy of Music in Gdansk - Poland
Summer workshops for trombone in Austria
Juror at the "Intermusica Solocompetition" in Austria
2009
Juror at the Yamaha Europe Soloist Competition in Vienna (Austria)
Master classes and Solorecital at "Music Academy Latvia" in Riga
"International Trombone Festival" in Århus (Denmark)
Soloperformance with "Recreation Orchestra" in Graz / Austria (Grøndahl concert)
Summer seminar in Kärnten (Austria)
Juror at the "Intermusica Soloist Competition" in Birkfeld (Austria)
CARSTEN SVANBERG
E-Mail: